JUMA FM70 is a compact digitally controlled FM transceiver for the 70 MHz amateur radio band (4 m).
JUMA FM70 provides 15W RF output and the RX sensitivity is excellent. The front-end is designed to withstand the near by high power FM broadcast stations by high selectivity multi pole band-pass filter. Low noise Dual gate MOSFET is used for high sensitivity. The narrow band selectivity is defined by two IF frequencies, the first 10.7 MHz is using XTAL filter and the second IF 455 kHz is using two cascaded ceramic filters.
Smart construction
JUMA FM70 smart contruction is based on one main board which inludes RX, TX, PLL, and microcontroller. Rear panel inludes the connectors and final RF MOSFET. Behind the front panel there is the control board which includes the VOL pot, SQU pot, Power button, Mic connector, LCD display and the encoder with push button for configuration.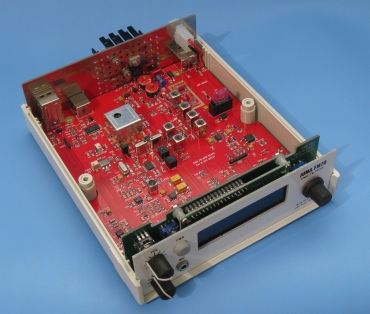 JUMA FM70 internal view

Connectivity
- Mic connector with PTT in
- Power supply
- Antenna 50 ohms (BNC connector)
- Line in e.g. for PC sound card and line in PTT
- Line out, ext speaker or phones
- USB connector for software updates and control