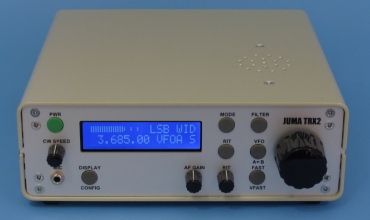 JUMA TRX2A SSB-CW transceiver
General
JUMA TRX2A is a high dynamic range transceiver for SSB and CW, using the quadrature sampling technique for demodulation and modulation with the low noise phasing method. JUMA TRX2A includes a DDS controlled VFO for a good frequency stability and signal purity. An internal microcontroller is controlling all functions of the transceiver.
JUMA TRX2A is available as a discrete kit with components and bare circuit boards. The enclosure is machined and printed. Only few coils need to be wound when constructing JUMA TRX2A. A completely assembled transceiver and other building help is also available with the help of the JUMA community.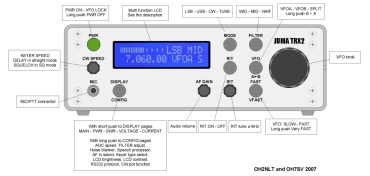 JUMA TRX2A user interface. Click the picture to see full size.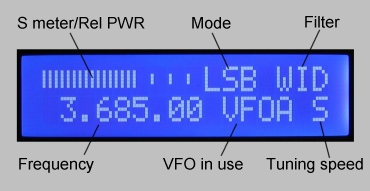 Main Display page

Click here to see other main page samples
Alternate display pages
RF power indicator
SWR indicator
Supply voltage indicator
Drain current indicator
Click here to see alternate display pages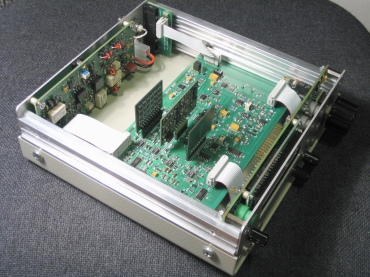 Board interconnections are made using flat cables. The 1st AF filter and the polyphase modules are plugged to the main board.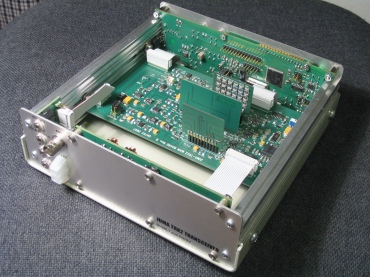 The DDS board is mounted to the front panel. The Main board is mounted horizontally to the aluminum profile.
Configurable features
AGC Slow/Fast
LPF corner frequency setting
Speech Processor ON/OFF
Mic connector, input level MIC/LINE
Keyer Dot priority/Iambic-A/Iambic-B/Straight
RS232 mode TRX2/Yaesu CAT/Test functions
Display brightness/contrast

The microcontroller and the DDS chip are on the bottom side
Options
Voice memory plug in module
Ext keyboard JUMA KB1 for voice memory control


All the buttons and the pots are on the top side of the DDS board
Service/calibration mode
Reference oscillator software calibration
S-meter software scaling
FWD power meter software scaling
Acknowledge tones length setting
Reload factory settings

See presentation videos in Youtube



Sample mp3 recordings with an OCF dipole by OH7SV in the city QTH Vantaa, southern Finland.
SSB sample in 80 m contest (UA3TCJ)
CW sample in 80 m contest (SP4Z)
CW sample in 30 m band (OK1KJV)
SSB sample in 20 m band (SV9CVY)
CW sample in 20 m band (4Z5AD)
Wide/narrow filter CW demo in 20 m (4Z1UF)
CW sample in 17 m band (JA8CMC)
SSB sample in 20 m band (KH6IB)

AM sample mp3 recordings (at zero beat) by OH2NLT with an OCF ham dipole, QTH Espoo, southern Finland 2008-11-29 at 17:00 UTC
AM Deutche Welle at 6.075 MHz, sample 1
AM Deutche Welle at 6.075 MHz, sample 2

Firmware
The most recent software updates will be available and users can easily upgrade the firmware without any special tools with the build in flasher utility and a PC serial cable. The firmware is written in the C language. Source code is available for experimenters
Power supply
Nominal supply voltage 13.8 VDC (range 11 VDC...15 VDC)
Nominal supply current RX0.4 A, TX 2.5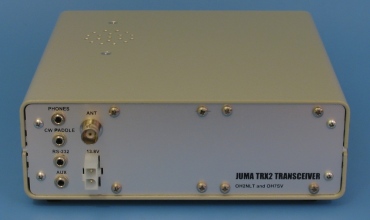 The rear panel

See more photos here

Features
All ham bands 160m-10m including WARC bands, RX 100-30 MHz
Transmit modes LSB, USB, CW and TUNE
Output RF power 10 W
RF output, SWR, voltage and PA current displays in LCD
Built in keyer: Dot priority, Iambic A, Iambic B and straight modes
Good clickless CW keying with adaptive release time
Three filters: Wide, Medium and Narrow with a good shape factor
The filters are user adjustable, see the diagram here.
Outstanding dynamic range and good sensitivity
Excellent AGC with slow and fast modes
First-class optical VFO encoder with 480 steps per revolution
7 digit frequency display with 10Hz display resolution
Three selectable VFO tuning speeds Slow/Fast/Very Fast
VFO lock feature
RIT and XIT (long push) with own tuning knob
Graphical S-meter range S1...S9+40 dBm
Non volatile memory for VFOs, modes, settings and calibration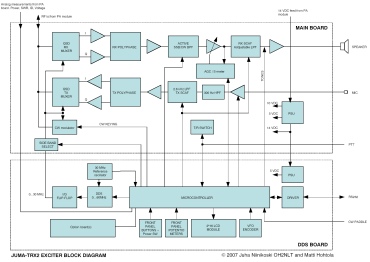 Click to see the exciter block diagram (pdf)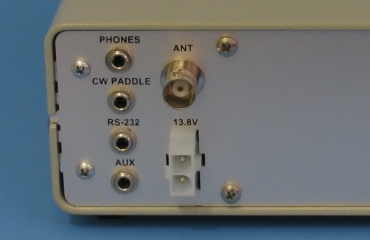 Close-up view of the connectors
Front panel: MIC/PTT/Line in
Rear panel: DC supply, Antenna, Headphones/SPKR, Paddle, RS232 (TRX2, Yaesu CAT, Ext KB and test modes), AUX (ext PTT in, PTT out or I/Q output for PC sound card)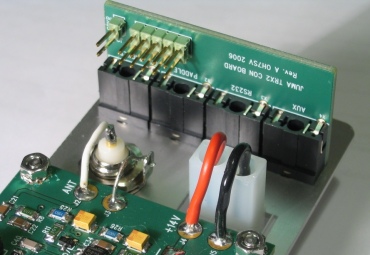 Connector board detail. Only four wires need to be soldered, others are flat cables using IDC connectors.
The 1st SSB/CW filter module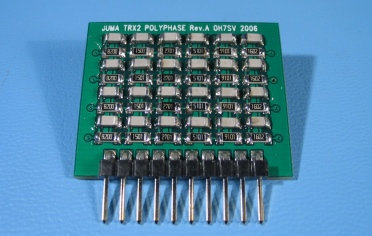 The polyphase module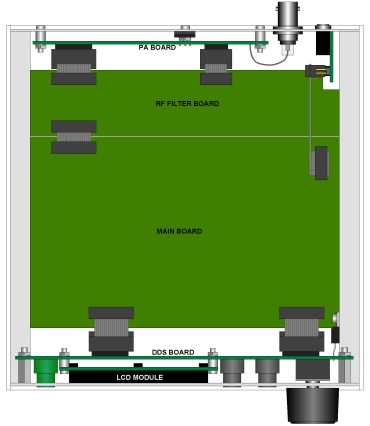 Construction, click to load the pdf

Front construction

Dimensions:
Width 182 mm, Height 60 mm, Depth 185 mm

Weight:
1.2 kg

Specifications
JUMA TRX2A specifications
JUMA TRX2-VM Voice Memory specifications