JUMA TX500 is a digitally controlled CW transmitter for the 500 kHz amateur radio band (600 m). The transmitter is available as a component kit which inludes all the electrical and mechanical componets.
JUMA TX500 is using ultra high efficiency CMCD amplifier (Current Mode Class D) topology in the final RF amplifier. The final transistors produce negligible heat. This means that you get 60 watts output with only 5 amp current from a 14 VCD power supply. TX500 is infinite key down proof transmitter. See power and efficiency
measurement graph
. The frequency stability and the signal purity of JUMA TX500 are excellent.
JUMA TX500 is a versatile building block for 500 kHz, it includes antenna switching for RX and it can be connected to any 500 kHz receiver. TX500 will enhance your RX performance with the built-in narrow band front-end filter and with the selectable 10dB/20dB preamplifier. If a 500 kHz receiver is not available, you can switch ON the built-in high dynamic RX up-converter and listen 500 kHz band with a 3.5 MHz receiver.
Additionally JUMA TX500 can be configured for a stand-alone beacon. You can enter a desired CW message and start a continuous beacon transmission.
You can
download JUMA TX136/TX500 Windows control software
. It is very useful especially in slow QRSS CW and supports speed down to 0.1 wpm. See a sample
screenshot here.
The kit includes a ready programmed CPU. New forthcoming firmware versions can be easily downloaded from JUMA site and uploaded with a PC.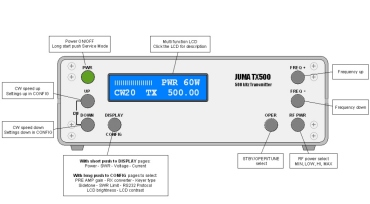 JUMA TX500 user interface
(Click the picture)
Antenna application note for 500 kHz

WRC-12 allocated 472 kHz-479 kHz to amateur radio

Status of 500 kHz allocation by IARU

See also 136 kHz transmitter JUMA TX136